Mineral Wells falls in playoffs after valiant effort this season
Mineral Wells was down 0-7 before 18 seconds had ticked off the clock, thanks to a 71-yard sprint on the first play of the game by the Aubrey Chaparrals during Thursday night's 4A playoff game.
That setback could have offered reasonable opportunity for the Rams to let down or even give up. They had sneaked into the playoffs with a losing record and were pitted immediately against a district champ that had gone 10-1.
Key players were missing from the Mineral Wells roster, and the Rams were starting a sophomore at quarterback and hobbled at the end of a long season beset by a myriad of problems related to COVID-19 quarantines and injuries.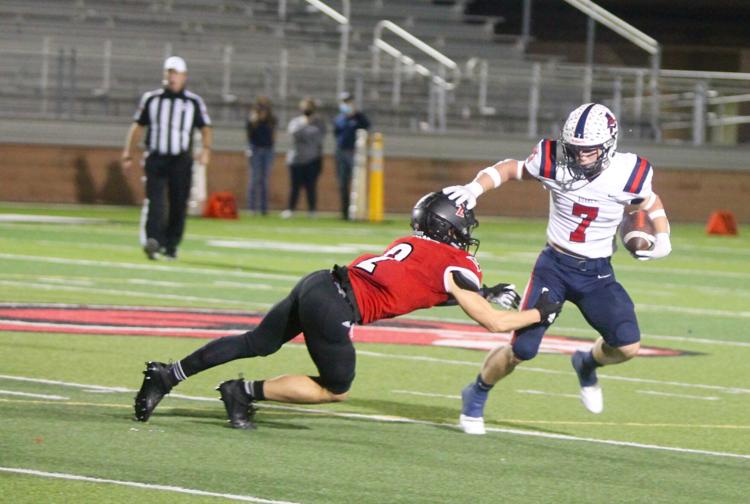 Still, the Rams showed grit, put up a fight, capitalized on a fumble recovery and turned a fourth-and-long situation into a touchdown to keep the game interesting early. On fourth and 11 from their own 37 midway in the first quarter, Rams quarterback Mason Facteau tossed a lateral pass to Camden Richards, who connected with wideout Tristan Gray on a long pass to the paint to tie the score 7-7.
The Chaps, though, scored on their next possession. And next. And so on, taking a 55-7 lead into the half. The Rams couldn't keep up and saw their first playoff appearance in three years doused. Final score: Rams 14, Aubrey 62.
Afterward, the team's seniors locked hands and walked the distance of the field, end zone to end zone, while the crowd applauded the boys' final time to go to war together at Ram Stadium.
"They need to keep their heads up," Head Coach Gerald Perry said. "They got us back here [to the playoffs]. We had a great crowd here, and they didn't leave at halftime. Our crowd stayed and supported the players. It was a super effort. I can't even say how proud I am of our players."
(Another super effort worth acknowledging: The national anthem, as sung by Mineral Wells senior Kenzie Lawhon, was worth the price of admission alone. Lawhon delivered a stunning rendition of "Star-Spangled Banner" that made the crowd erupt on both sides of the field.)
Brock Eagles still eying a state title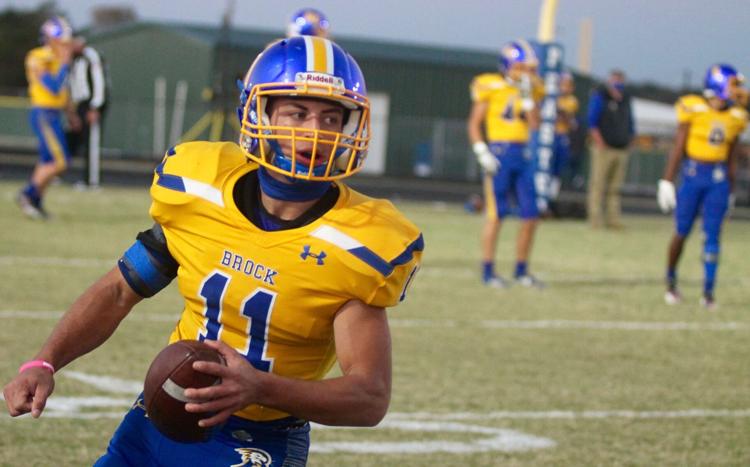 Brock thumped Early early and kept its perfect record perfect. Final score: Brock 42, Early 7.
The Eagles are on a quest to win a state title that has eluded them for five years, and they let the Longhorns in on the secret quickly, scoring three touchdowns in the first quarter of Thursday night's playoff game.
Cash Jones ran for two TDs to make the score 14-0 with 4:12 left in the first, and then quarterback Jaxon Gleaton hit tight end Nathan Jones for a 14-yard scoring pass to go up 21-0.
Brock running back Chris Palfreeman punched in a one-yard TD in the second quarter, Myles Semas scored on a short run in the third and Gleaton hit Carson Finney for a 12-yard TD pass in the final quarter to deliver a steady trickle of pain to the Horns.
Brock's defense was its usual ornery self. Bain Shanklin intercepted a pass, and Semas, Eli Potts, Chase Webster, Carson Carter, Luke Dillingham and Blake Hill were the top tacklers.
Springtown 59, Hereford 13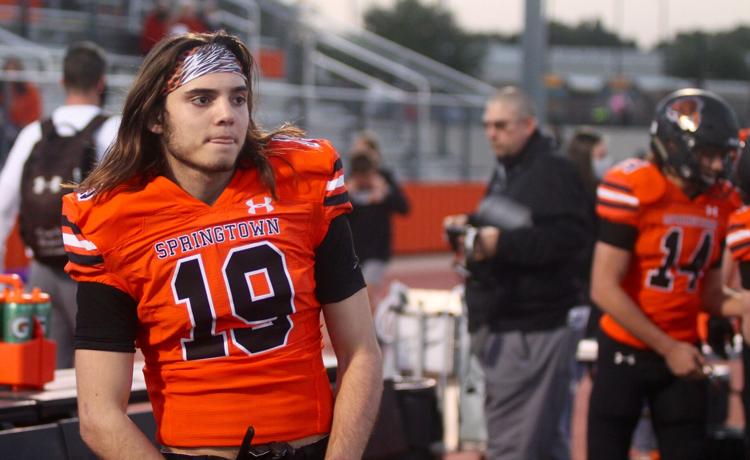 Scoring four touchdowns in the first quarter of Thursday night's playoff game was the Porcupines' way of saying they are on a mission. If Hereford still wasn't understanding the situation, the Pines clarified it again in the second quarter with 17 points and again in the third with 14 more.
Springtown's defense, meanwhile, clamped down on Hereford's offense, shutting them down for three quarters before mop-up time in the fourth.
Highlights for Springtown include a Camden Chesney pass that sailed 40 yards in the air and hit Cooper Croft at the back of the end zone. (Chesney would hit Croft for another TD later in the game.) Chesney's little toss on a flare-out to Kolton Geist in the flat turned into a 61-yard sprint to the end zone. Running back Dylan Davis made a nice juke to go 46 yards for a TD, and Ashton Strahan made three nice jukes during his 44-yard TD run in the third quarter. Andy Behle made two touchdown grabs.
The defense delivered a huge hit on a Horns running back that resulted in a recovered fumble.
Chesney, who threw for five touchdowns, was named Springtown's player of the game.
Strawn 46, Walnut Springs 0
Strawn is beginning to resemble the Superman-looking logos on their helmets. The Greyhounds swatted a Hornets team with scant resistance after beating rival Gordon to win a district championship. The Greys, who are the subject of a national sports documentary in the works, would like to give the documentary a nice ending.