Weatherford keeps winning
On Friday, the Lady Roos won their second consecutive district game, plopping Chisholm Trail in straight sets: 25-10, 25-9 and 25-23.
Weatherford Head Coach Nicholas Gay said his team played well and "improved on some things that we worked on in practice."
Roos senior Abbie Lane led in kill shots with 14, and fellow senior Logan "Shazam!" Loran added 29 assists. Keegan O'Connor, a junior, led the team in digs with 18 and surpassed 1,000 career digs during the game. O'Connor added three aces and an assist to her big night.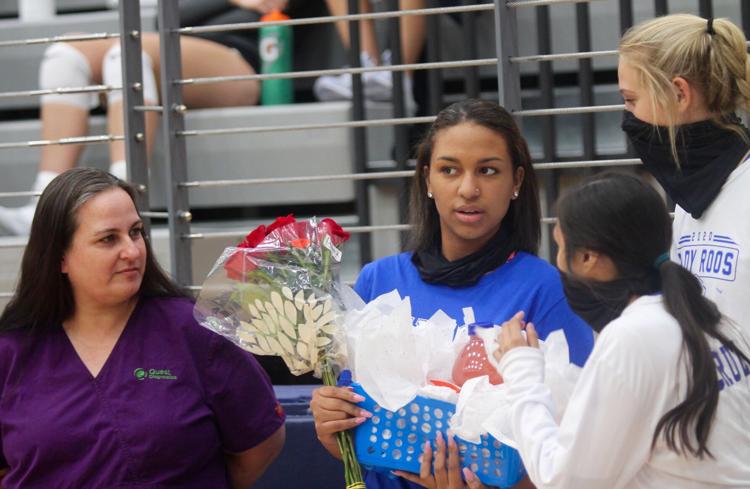 A big game is coming up with Trinity, who dealt the Lady Roos their only district loss last year.
"We are looking forward to playing at Trinity," Gay said. "They always have a great home crowd and play so tough at home."
Weatherford (8-2) plays at 7 p.m. Tuesday on the road against Trinity (4-2).
Mineral Wells is back
It wasn't easy, but the Lady Rams won their first district game and ended a two-game losing streak by defeating Hirschi in five sets last weekend: 22-25, 25-19, 18-25, 25-23 and 17-15.
This week's contest against Graham might be harder still. For perspective, Hirschi is ranked 962nd in the state. Graham is ranked 16th.
Mineral Wells (7-8) plays at 5:30 p.m. Tuesday on the road against Graham (17-2). 
Aledo clobbers Coronado
It didn't take long for the Ladycats to snatch the win against Coronado: 25-14, 25-10 and 25-20.
Now, they face a team that has lost its last two games and started 0-2 in district and is eager to reclaim its winning formula. The Ladycats, however, don't roll over and purr for anyone. They scratch and claw their way to wins and are currently ranked 24th in the state.
Aledo (9-1) plays at 5 p.m. Tuesday at home against Keller (2-3).
Springtown shakes off loss
The Lady Pines followed that tough loss against highly ranked Krum a week ago by winning a hard-fought battle against Argyle over the weekend, taking three of four sets: 19-25, 25-16, 25-22 and 25-23. 
Leading the Pines in kills with 19 was Railey Druxman, who added 13 assists, 14 digs, two aces and a block to her impressive stat sheet. (Druxman is the team leader in three categories for the season: kills, aces and receptions.) Rayleigh "Miss Assist" led in assists with 18, and the team notched a combined 41 against Argyle. Farris and Brinklee Dauenhauer tied for the lead in aces with three each.
Springtown (13-3) plays at 7 p.m. Tuesday at home against a neighboring rival — Azle (3-4).
Poolville keeps sweeping
The mighty Monarchs made it six sweeps in a row, with the latest victim being Lindsay, who fell in straight sets on Friday: 25-23, 25-18 and 25-20.
Senior libero Alyssa Bonaventure played an exceptional game on the back row, and the team as a whole excelled defensively, said Poolville Head Coach Kendal Bracy.
"Every player showed up and played their role for the team at the level we needed them to," she said. "We definitely were ready to play and ready to fight for what we wanted.  It was a fun night and an important district win for us."
Bentley Bryan was "solid and smart as always," leading the team in kills and blocks, Bracy said.
Senior setter Payton Jennings led in assists.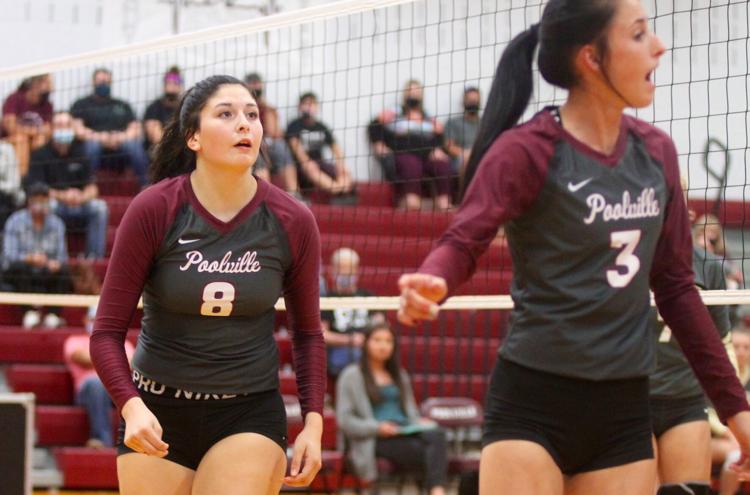 The Monarchs are trying to win their fifth district championship in a row under Bracy.
Poolville (16-3) plays at 5 p.m. Tuesday at Graford (9-8).
Peaster muscles Brock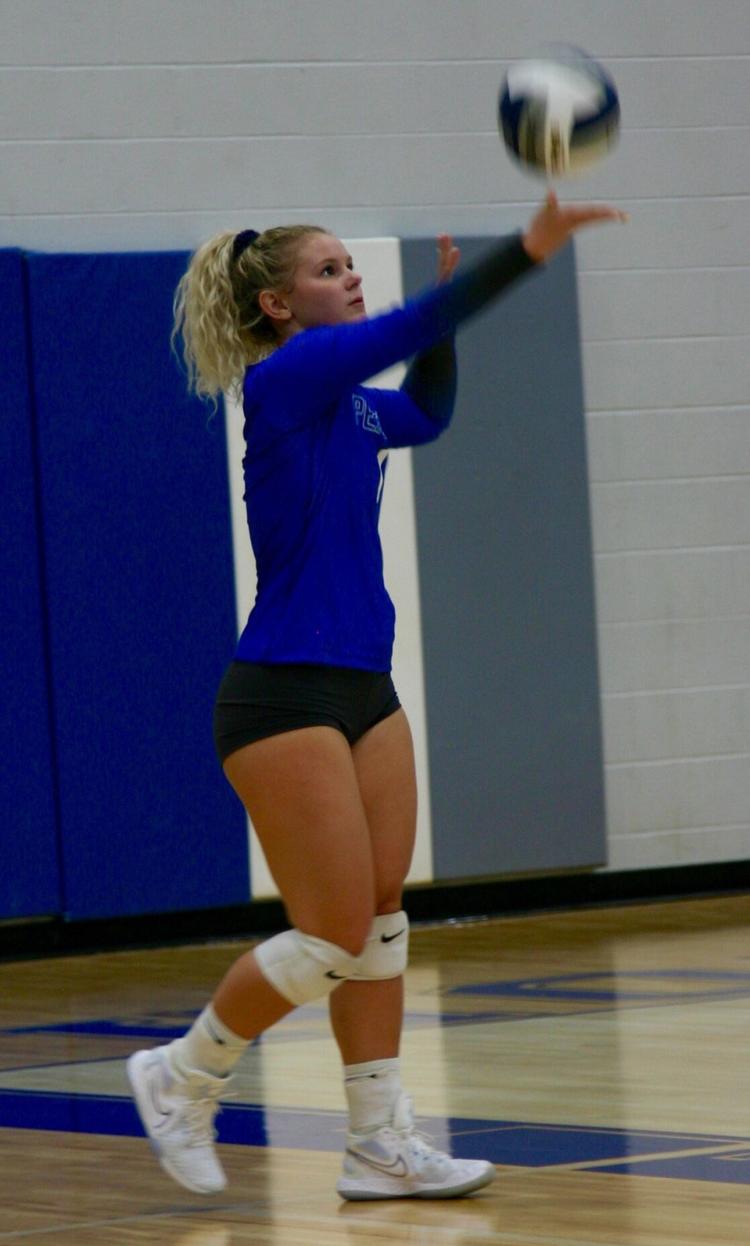 The Peaster Greyhounds made a statement on Friday while facing the high-flying Brock Eagles. The Lady Eagles had been on fire, winning four straight games by sweeps. They cruised into their home gym on Friday to test themselves against a worthy foe — Peaster — who had been busy sweeping its own opponents in recent weeks. The Battle of the Sweepers met to determine who wielded the biggest broom, and Brock won the first two sets with little trouble. They were one set away from being Queen Sweep but crashed to Earth soon afterward and lost the next three sets. Final tally: 25-20, 25-17, 21-25, 22-25 and 12-15.
Brock (10-10) plays a road game at 6:30 p.m. Tuesday against Dublin (8-9).
Peaster (15-3) is off on Tuesday and plays next at 6 p.m. Friday at home against Millsap (11-8).
Millsap clips Bangs
The Lady Dogs won in straight sets at home against Bangs on Saturday: 25-10, 25-17 and 25-13.
Loren Morazzano led in kills with eight, following closely by Kennedy Brukhall and Cheynne Pagan with six each. Morazzano also led in blocks and added a couple of digs for good measure. Taylor Cotton nailed four aces, and amaze-balls first-year player Jolee "Fab Fresh" Van Dyke led with 17 assists. 
Millsap (11-8) plays at 6:30 p.m. Tuesday at home against Eastland (2-5).
Strawn out-rises Rising Star
The Lady Greyhounds overcame a disappointing loss to Hawley a week ago to win in straight sets against Rising Star on Friday. It was the second time this season that Strawn had swept the Wildcats.
Strawn (10-3) will enjoy a bye on Tuesday and play next at 11 a.m. Saturday at Ranger (3-7).
Perrin-Whitt looking for a win
The Lady Pirates have scavenged few wins this season and are currently bogged down in an eight-game losing streak. They will have a bye on Tuesday to figure out their shortcomings. Breaking their losing streak won't be easy. Coming off their bye, they face the mighty Monarchs of Poolville, a team that rarely walks away empty handed. (The Monarchs swept the Lady Pirates in straight sets when they met earlier in the season.)
To win the rematch, Perrin-Whitt will lean heavily on team leaders Nayeli Lopez, Aaliya Brown, Molly Heagy and Savannah Burkett.
Perrin-Whitt (2-11) is off on Tuesday and plays at 5 p.m. Saturday at home against Poolville (16-3).