Sweep! Weatherford brooms Trinity
The Lady Roos traveled to Trinity on Tuesday but not as tame tourists. Instead, they hit town and thumped the Trojans in straight sets — although that middle set didn't come easily: 25-11, 30-28 and 25-12.
"We played really well and withstood Euless Trinity's push in the second set," Weatherford Head Coach Nicholas Gay said. "We were able to start out to quick leads in all of the sets, and that was key in taking out their loud and cheerful crowd."
The senior Roos led the way, with Lynsey Lee nailing 10 kill shots and Abbie Lane right behind with nine. Sophomore Kate Hansen added eight of her own. Lee tallied 20 digs, received 15 serves and protected the net with a block. Another senior, Logan "Shazam!" Loran, made her teammates shine in a selfless set-em-up manner — she recorded all but two of Weatherford's 43 assists. Volleyball Roundup appreciates the hardworking players who specialize in assists, and Loran is among the most prolific. She owns 293 of the team's 383 assists this year
Loran added 10 digs, three blocks, three kills and an ace to her stat sheet for another big night. Senior Kayleigh Bateman scored three of the team's seven aces and has 21 for the year.
Keegan O'Connor had a slow night by her standards, but one to be proud of —16 digs, 12 serves received, two aces and an assist. O'Connor, a junior, leads the team in aces (23) and digs (174) and serves receiving (128). Last week, she surpassed 1,000 digs in her career, and she has a whole 'nother year of high school to go.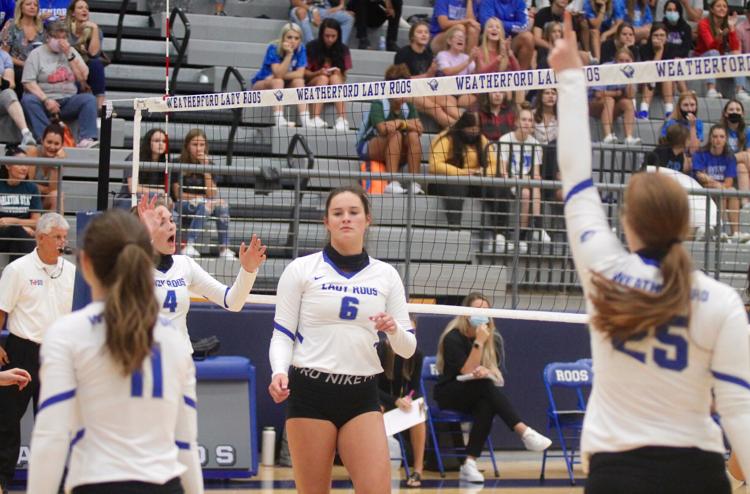 The Roos are among the area's best teams this season, currently ranked No. 15 in the region between Martin Arlington and Springtown.
Next up for the Lady Roos is a special game — homecoming.
"We are looking forward to the challenge of playing a new opponent and to see if we can be mentally tough to overcome all the challenges a homecoming week presents — but I know our kids will do a good job of that," Gay said.
Weatherford (9-2) plays at 5 p.m. Friday at home against North Crowley (1-3) in a district matchup at the NGC Activity Center.
Mineral Wells falls in three
The Lady Rams fell to the highly ranked Graham Steers in straight sets on Tuesday: 11-25, 12-25 and 15-25.
"Although it was a tough loss, our team played well," Rams Head Coach Erin Rincon said. "It is always exciting to play teams that move the ball quick. It speeds up the tempo of the game."
She liked seeing several of her players, including Kyla Griffin, Meagan Waldrum and Brooklyn Ellis, blocking shots at the net. 
Next up? Another good team.
Mineral Wells (7-8) will play at 4:30 p.m. Friday at home against Iowa Park (15-8). 
Aledo stumbles against Keller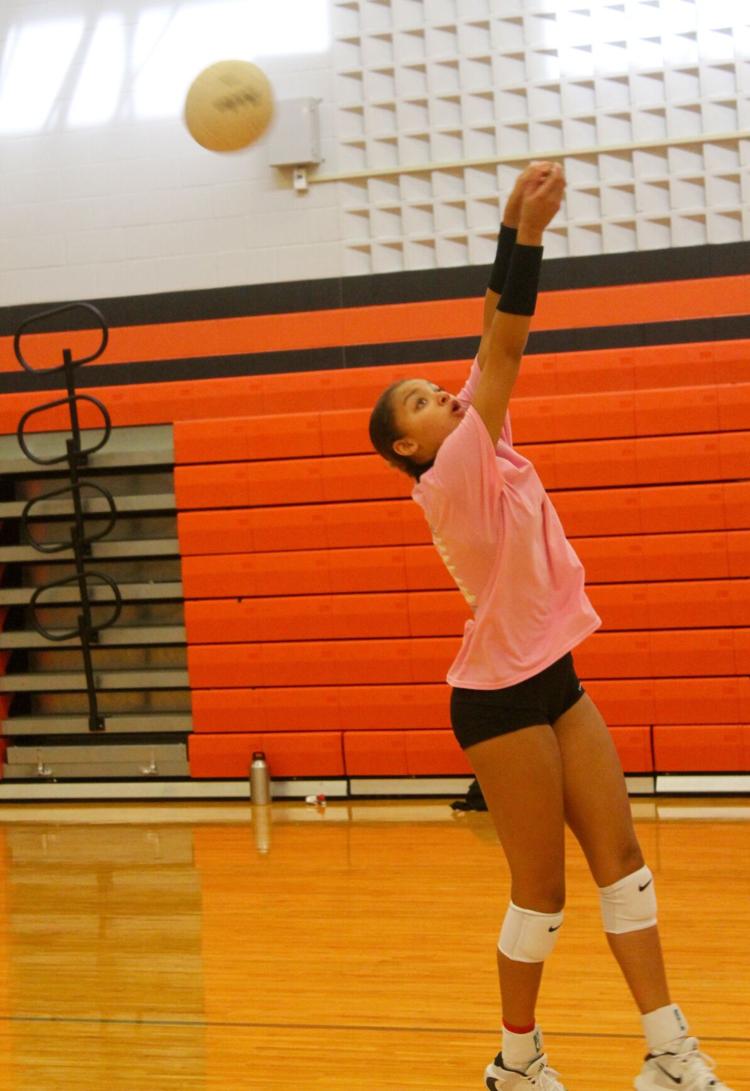 File this game in the "Say Wha?" folder. The Ladycats were on a five-game win streak and 9-1 for the season when the middling Keller Indians rolled into town hauling a losing record.
Then, the Indians knocked off the Cats in three sets.
Aledo is ranked 21st in the state. Keller is 205th. Games, though, don't always follow the numbers, and teams have good days and off days, just like us all.
Aledo's Lilly Taylor led the team in kill shots and serves received. Mattie "Worker" Gantt notched 15 of the team's 20 assists. Abby Thompson led in digs with 17, followed by Gantt with 15 and Molly Tucker with 10. Audrey Pearce led with five blocks, and Tucker and Addison Denbow both served up a couple of aces.
Aledo (9-2) plays at 5 p.m. Friday at home against Southlake Carroll (4-1).
Springtown owns Highway 199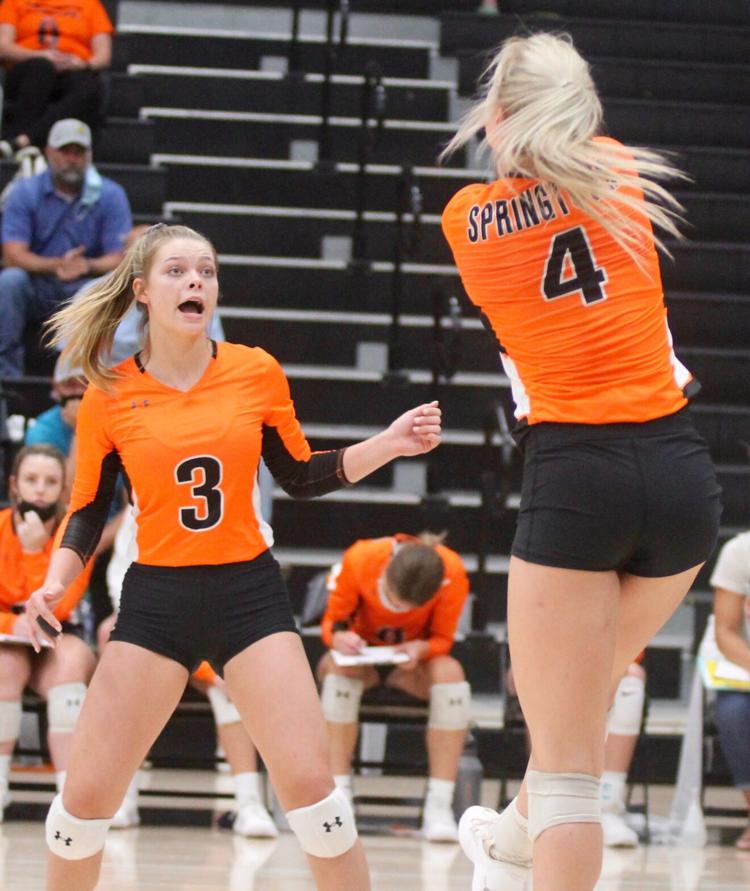 The Lady Pines hosted the neighboring Azle Hornets and swatted them back home, albeit with a fair degree of difficulty: 23-25, 25-23, 25-19, 22-25 and 15-12.
The game was as exciting and nail biting as the numbers indicate.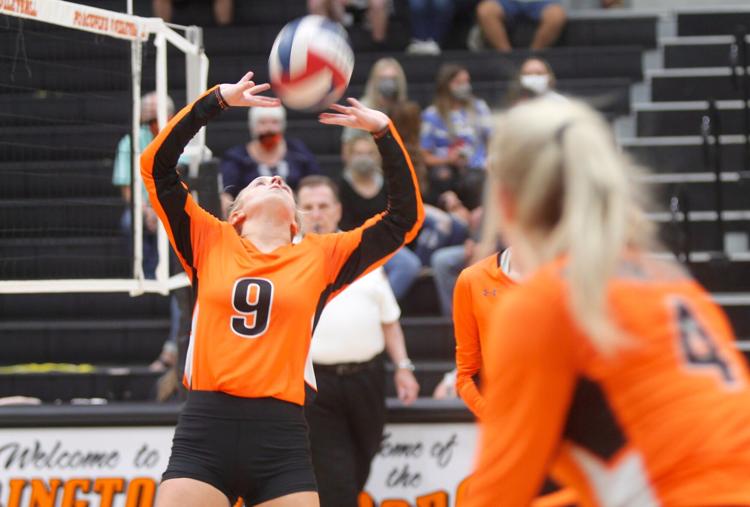 "That was fun — we like a rollercoaster," Springtown Head Coach Leighann Strickland said with a chuckle afterward.
In the first match, Springtown took a quick 5-0 lead but lost. In the second, they began with a big deficit and fought their way back to win. All the sets were close and included extended volleys kept alive by desperate dives and over-the-shoulder returns. 
In the pivotal fifth set, Springtown was down 1-5, and Azle seemed to possess the momentum. The Lady Pines regrouped during a timeout, returned to the court and began to fight their way back slowly. Before long, they had whittled the score to 5-8. They fought to 7-9, tied the game 9-9, took the lead 11-10, kept it despite a strong final push by the Hornets and sealed the deal while the hometown crowd filled the gymnasium with cheers.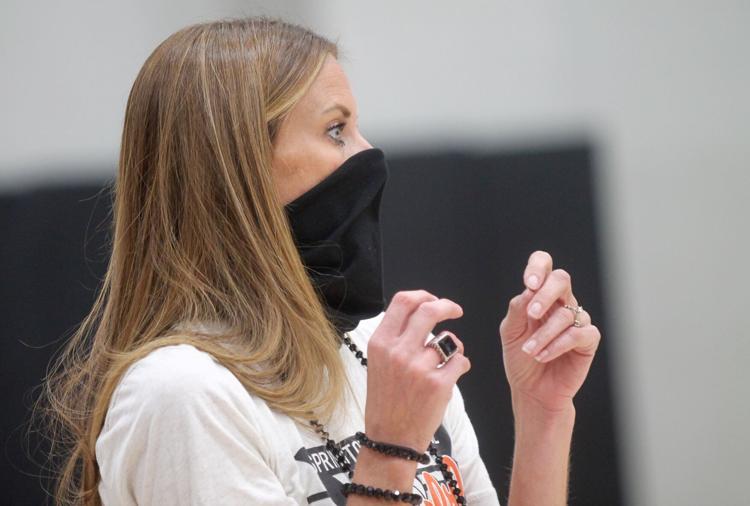 Strickland was proud of her team for fighting back after falling behind.
"We haven't been able to do that in several years," she said. "Our mentality is a lot tougher than it has been in the past, which is a big bonus."
She credited the team's experience.
"We have several returners, several kids who play year round, and that automatically helps us in the long run to stay mentally tough," Strickland said.
Railey Druxman led the Pines with 21 kills and three blocks. Rayleigh "Miss Assist" Farris led with 25 of her specialty and added seven kills, seven digs, two aces and a block. Stoli Cox and Brinklee Dauenhauer added 10 kills apiece. Skylar Holland scooped 14 digs, followed by Emma Martinez with 11.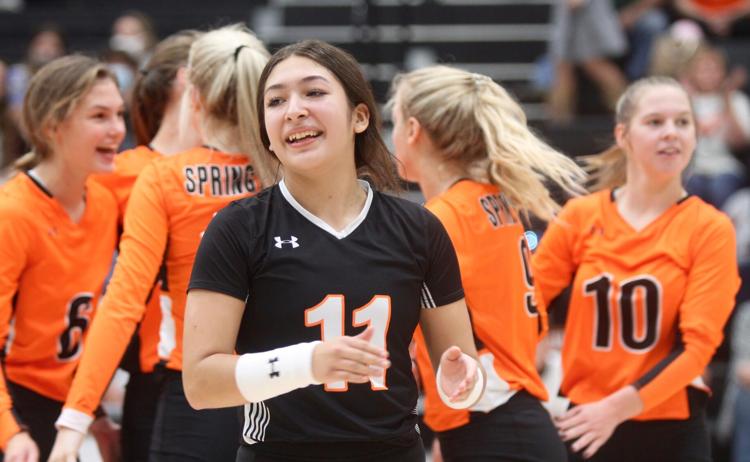 Despite the Lady Pines' winning record and talented team, they remain in third place behind Decatur and Krum, the two teams that have beaten them this year.
Springtown will have a chance at redemption. The Lady Pines will face both teams again before the regular season ends. Strickland characterized their district as the toughest in Texas.
Springtown (13-4) plays at 5 p.m. Friday at home against another town along Highway 199 — Lake Worth (2-11).
Poolville prevails in Graford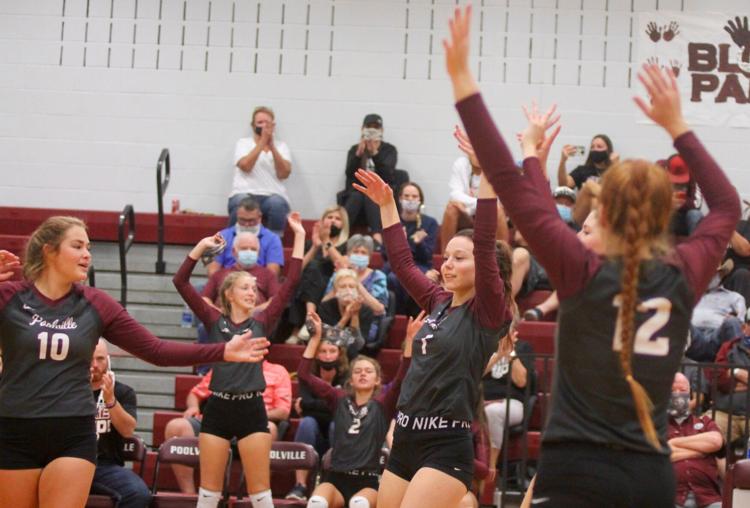 Seven sweeps in a row — and 13 for the season — for the mighty Monarchs! The team is seeking its fifth consecutive district championship.
Poolville (17-3) plays at 5 p.m. Friday at Perrin-Whitt (2-11).
Graford (9-9) plays at 4:30 p.m. Friday at Chico (6-6).
Brock is back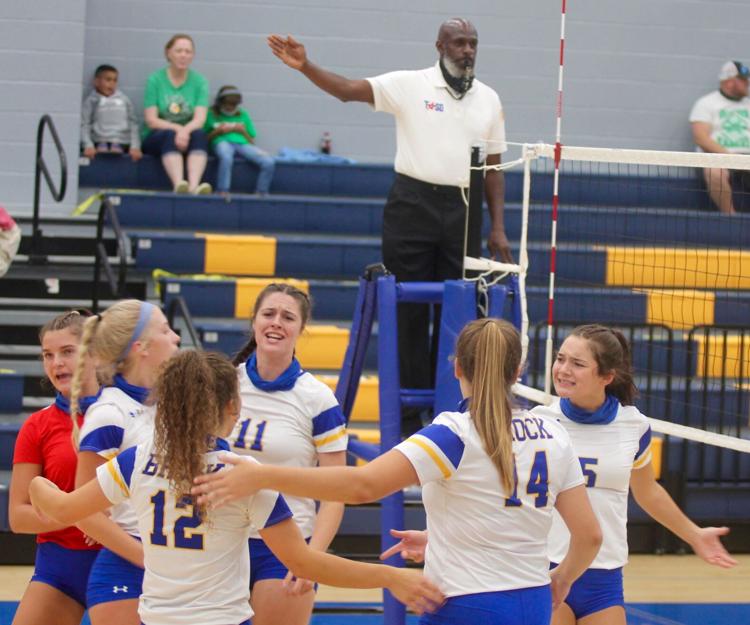 The Lady Eagles shook off last week's loss to Peaster and came roaring back during Tuesday's road trip to Dublin, sweeping the Lions in straight sets: 25-13, 25-14 and 25-14.
Ava Tanner led Brock with a dozen kill shots and tied with Hailey Little for the team lead in digs with 17 apiece. Little also led in serves received. Marlee Garcia paved the way in assists with 16. Kylie Hoster nailed five aces and a dozen assists.
Brock (11-10) plays at noon Saturday at home against Early (3-10).
Millsap sends Eastland packing
The Lady Bulldogs displayed heart and relentless effort during Tuesday night's game, including losing their starting libero halfway through the first set to an injury.
"Instead of letting the adversity of losing such a key player rattle them, the Lady Bulldogs remained confident and united together to get the job done," Millsap Head Coach Kylie Serrato said. "A few girls had to step up and play in positions they've never had to play before, and not only did they get the job done, but they did it in an impressive fashion."
Serrato expressed pride in the girls for their individual performances but was especially happy to see her team's  "determination to not let the obstacle at hand be bigger than their will to win."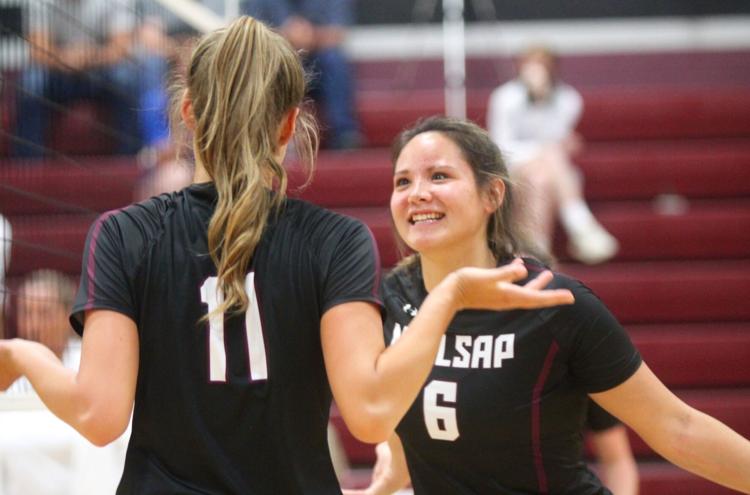 Millsap was led in aces by Allison Keplinger and Jolee "Fab Fresh" Van Dyke with four apiece, and Taylor Cotton added three more.
Kennedy Burkhall led in kills and blocks and added 18 digs.
Loren Morazzano notched 34 digs to lead the team, and Cotton and Allison Keplinger had 17 each.
Baylee Chriestenson led in assists with 25, and Van Dyke tallied 19.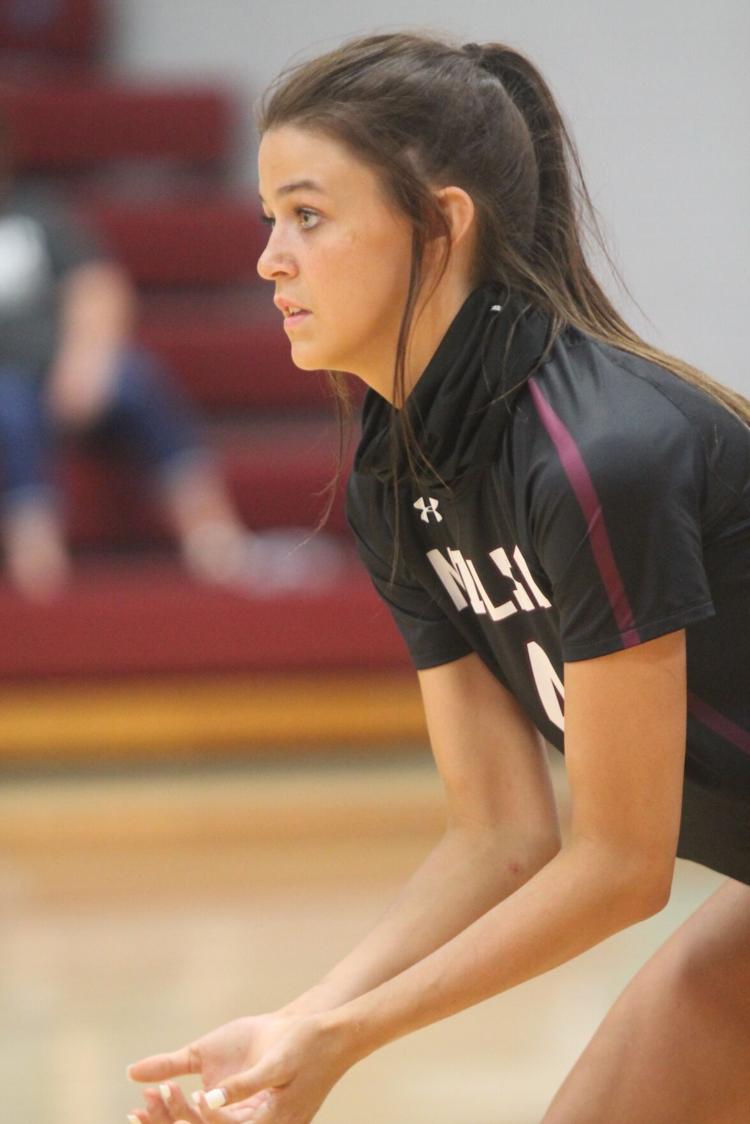 Next up for Millsap is a tough district rival.
Millsap (12-8) plays at 6 p.m. Friday at Peaster (15-3).
Peaster, Strawn, Perrin-Whitt were off
Peaster (15-3) plays at 6 p.m. Friday at home against Millsap (12-8).
Strawn (10-3) plays at 11 a.m. Saturday at Ranger (3-7).
Perrin-Whitt (2-11) plays at 5 p.m. Saturday at home against Poolville (17-3).