Weatherford wins district opener
Weatherford finished 6-2 in the non-conference part of its schedule and began district play on Tuesday night against an undefeated and talented Haltom team.
And ... Haltom is no longer undefeated.
The Roos buffaloed them in straight sets: 25-20, 25-10 and 25-8.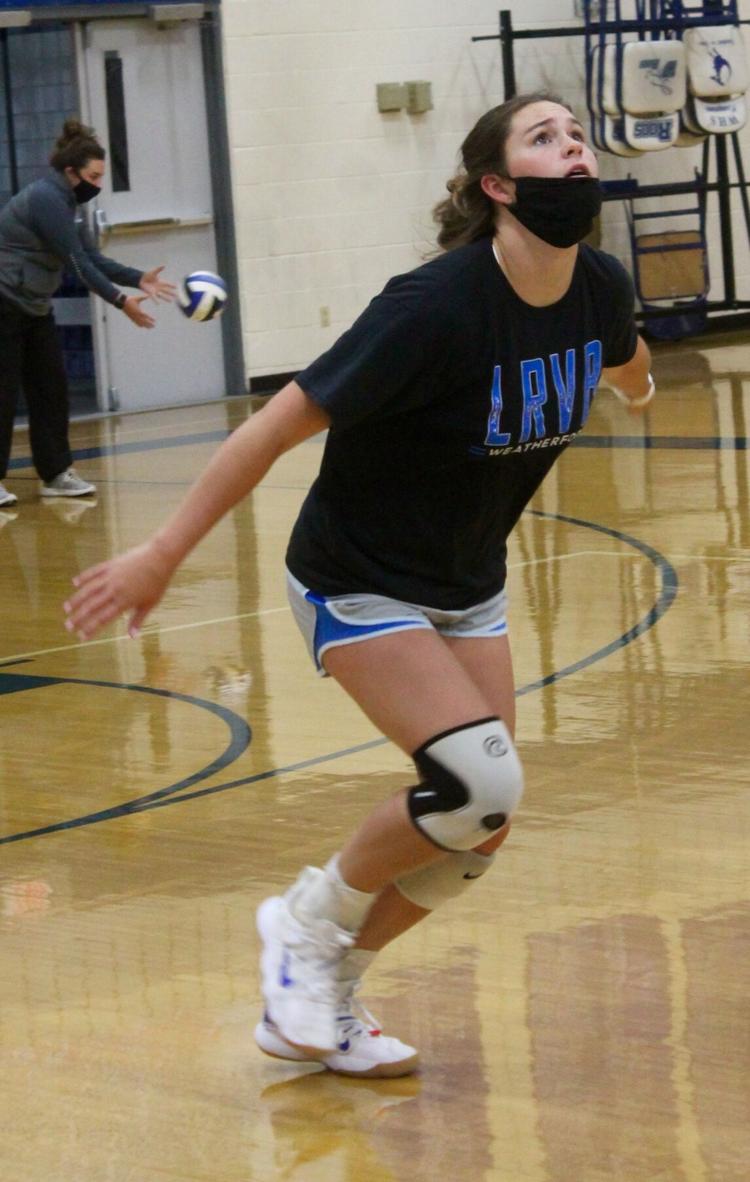 Abbie Lane led with nine kill shots, followed by Kate Hansen with eight. Kayleigh Bateman served five aces, and Keegan O'Conner and Lynsey Lee each nailed three of their own. Lee also led in digs with 11, followed closely by O'Conner with 10 and Bateman with eight.
Logan Loran led in assists with 24 and has already topped the 200 mark this season. She might deserve a nickname. Hmmm. Got it. Say hello to Logan "Shazam" Loran.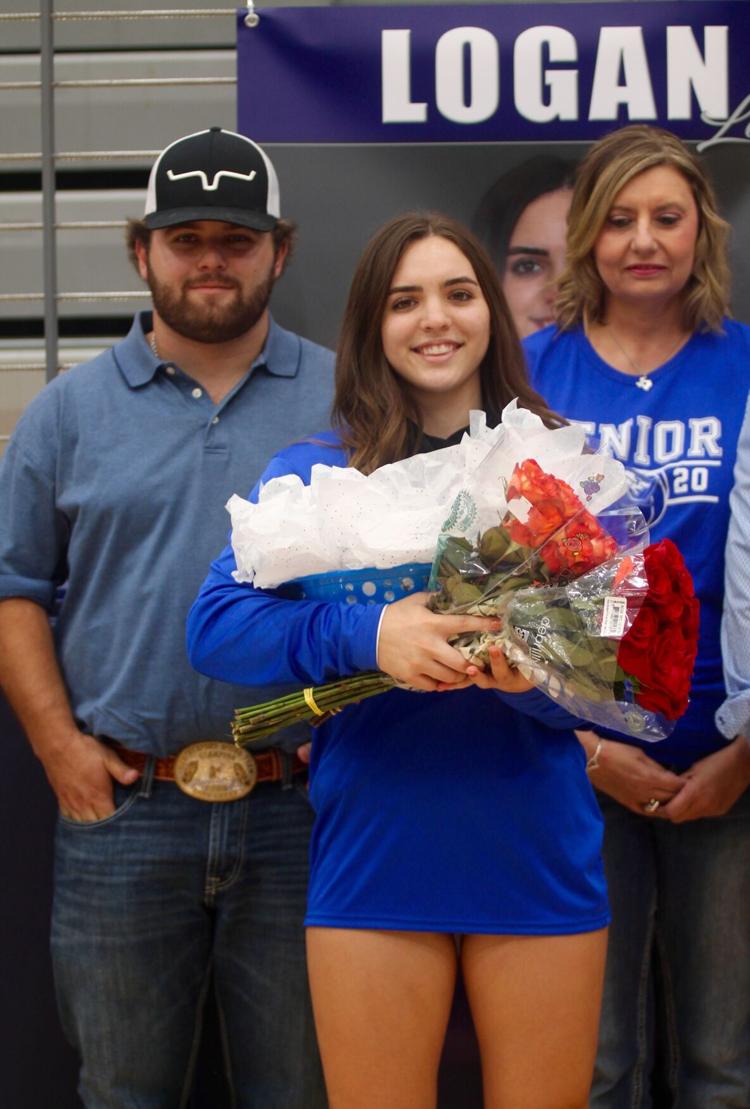 Weatherford Head Coach Nicholas Gay likes his team heading into district play.
"We have great potential and have shown competitiveness in all of our preseason games and are looking forward to forging our team chemistry in district," he said.
O'Conner, a junior, is leading the team in digs and aces, and Lane has been busy at the net, notching more than 100 kill shots this season. Boding well for the future is Kate Hansen, a 6-foot 3-inch sophomore who leads the Roos in blocks.
Weatherford (7-2) plays at 7 p.m. Friday at home against Chisholm Trail (2-5) at the NGC on Main Street. Online Tickets can be found at for home games at weatherfordisdkangaroos.com/HTtickets
Mineral Wells rusty in return
After two weeks of postponed games due to COVID-19 cases at the school, the Mineral Wells Lady Rams, who were streaking before the delay, returned to action on Tuesday a bit rusty. The Rams lost in straight sets to a struggling Burkburnett team: 22-25, 14-25 and 19-25.
Mineral Wells Head Coach Erin Rincon charactered the loss as "tough."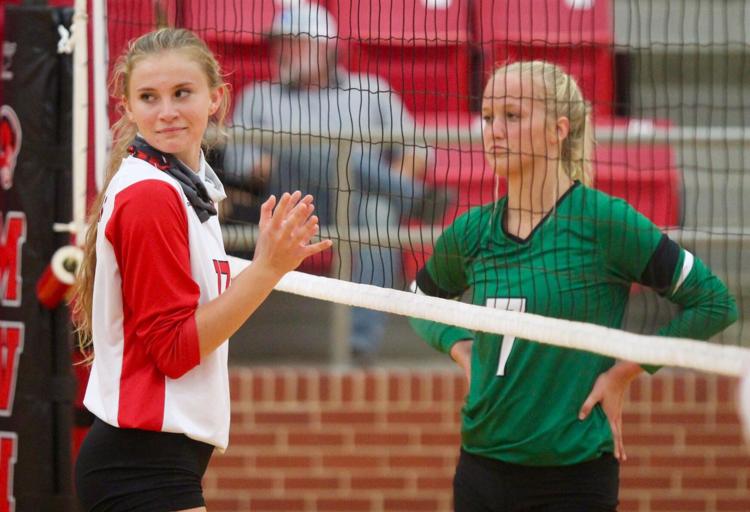 "We had such high momentum leading into district play after beating Brewer, but when we were unable to practice or play games last week, it stopped us in our tracks," she said. "I am confident that we can bounce back from it and get back in the swing of things. It was great to be able to play volleyball again, we were just hoping for a better outcome."
Mineral Wells (6-7) plays at 4:30 p.m. Friday in a winnable game at home against Hirschi (3-12).
Springtown finally falls
The Lady Pines have been playing inspired volleyball and began their game that way again on Tuesday against their toughest opponent yet — the state's eighth-ranked Krum Bobcats.
The Pines won the first set 25-17 but dropped the next three: 16-25, 17-25 and 18-25. The loss gives them a 4-2 district record.
"Last night was not our night," Springtown Head Coach Leighann Strickland said. "We didn't serve aggressive or place the ball very well offensively. We struggled big time in serve receive and blocking. We started strong, our block looked good, as well as our overall ball control, then we lost track of doing the little things along the way. We will focus on getting back on track and pushing our control even more."
Strickland remains bullish on her team, whose members push themselves to become better and are determined to finish in the Top Three in their district as the season's second half is about to begin. Leading the way is Railey Druxman, a junior who has "really stepped up and led our team as a whole," Strickland said. "She has worked hard not just in school ball but outside of school, too."
Other standouts Rayleigh "Miss Assist" Farris, Druxman, Trinity Tice, Emma Martinez, Landree Merriman, Brinklee Dauenhauer and Tegan Burdick.
Against Krum, Druxman led in kills and digs, Farris led in assists, and the team as a whole scooped 102 digs on the evening.
Springtown (12-3) plays an away game at 4:30 p.m. Friday against yet another good team, the Argyle Eagles (15-6).
Poolville brings a broom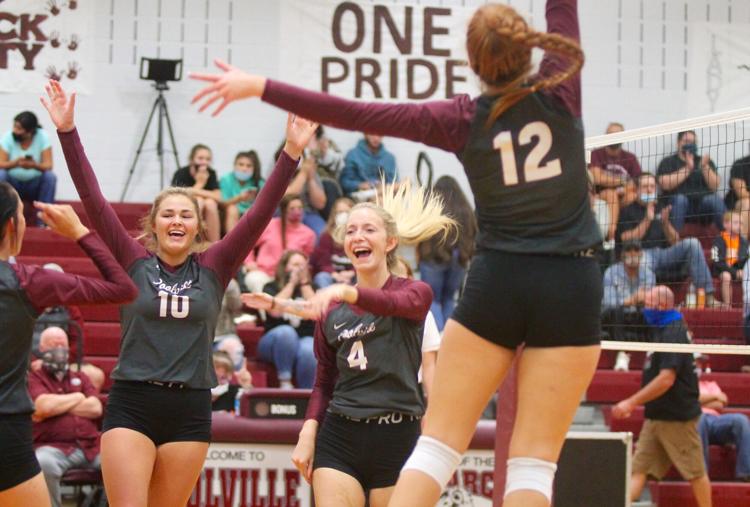 The mighty Monarchs beat Alvord in straight sets Tuesday: 25-11, 25-11 and 25-17.
Poolville boasts an experienced team, and three of its seniors enjoyed a big night — Bentley Bryan led with eight kills, Sarah Back blocked the most shots, and Brooklyn Hensley scooped the most digs. Makaylee Ray, a sophomore, led in assists. 
"I feel confident in our team," said Monarchs Head Coach Kendal Bracy. "We've been playing together for a long time, and our chemistry and how comfortable we are with each other really shows when we play. There's definitely a trust built among every one. "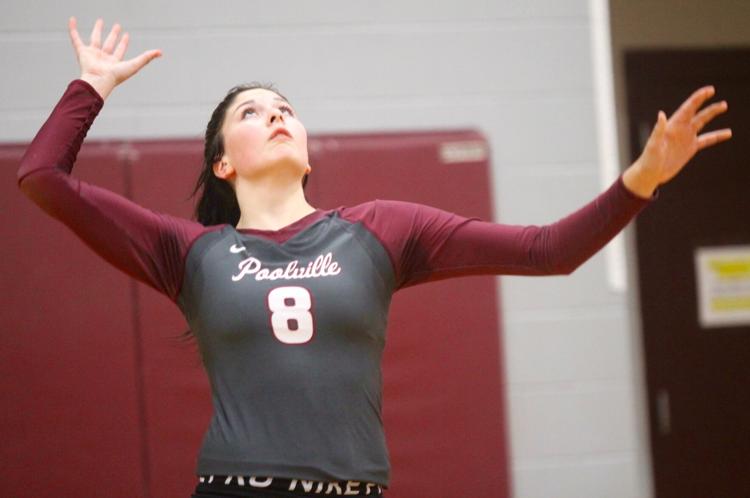 This is Bracy's sixth season at Poolville, and her teams have won four consecutive district championships and hope to make it five.
The Monarchs have made it to the regional quarterfinals during that span.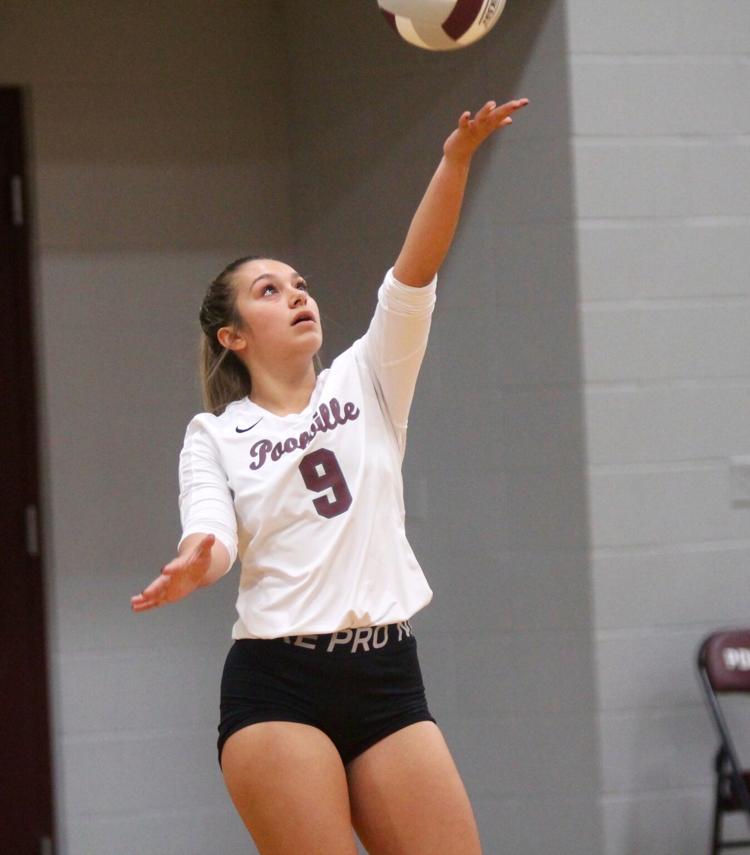 "Our goal is to keep the mentality of being grateful for every game and to never take the opportunity to put our uniform on and compete with each other for granted," Bracy said. "Keeping that mindset to us means giving each other our best effort in practice and games. Every practice and game is important and means something. That way of thinking has held us accountable to each other and has earned us a lot of success so far, and I believe it will be the driving force that allows us to earn more throughout the rest of the season."
Poolville (15-3) plays at 4:30 p.m. Friday against Lindsay (9-4) on the road in a district match.
Brock flexes muscles
The Lady Eagles beat the Comanche Indians with ease in straight sets — 25-6, 25-5 and 25-15 — making six consecutive sweeps for Brock. The team now has a winning record that is more reflective of its talent on the court.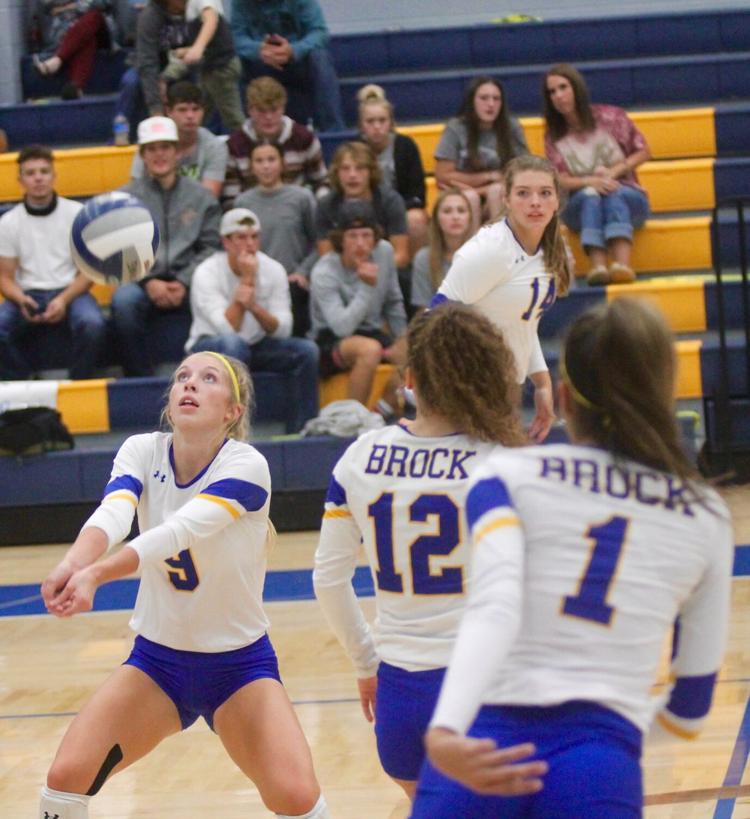 One-woman wrecking crew Ava Tanner led in kills, aces, serve receiving and digs. Marlee Garcia served six aces of her own and led in assists with 20, followed by Kylie Hoster with 17. Rian Brunner led in blocks.
Brock (10-9) plays a home game at 4:30 p.m. Friday against a highly ranked Peaster (14-3).
Peaster has muscles of its own
You know which other team has won its last six games in sweeps? Brock's next foe, the Peaster Greyhounds.
On Tuesday, Peaster beat the Dublin Lions 25-11, 25-14 and 25-15.
This sets up a battle of the sweepers: Peaster (14-3) plays at 4:30 p.m. Friday at Brock (10-9), and somebody's broom will be broken by game's end.
Millsap leaves Early…in the dust
The Lady Dogs had to fight for it but came out victorious after five sets: 25-17, 18-25, 19-25, 25-13 and 15-3.
Millsap recorded 15 aces for the second game in a row, led by Jolee Van Dyke with seven and Alexis Mejia with five. Taylor Cotton led in kills with 11, and Kennedy Burkhall was right behind with 10. The Dogs were in a digging frame of mind, with Mejiea and Allison Keplinger leading with 20 digs apiece, followed by Baylee Chriestenson with 16 and Cotton with 13. Chriestenson added 13 assists, and Van Dyke had a dozen of her own.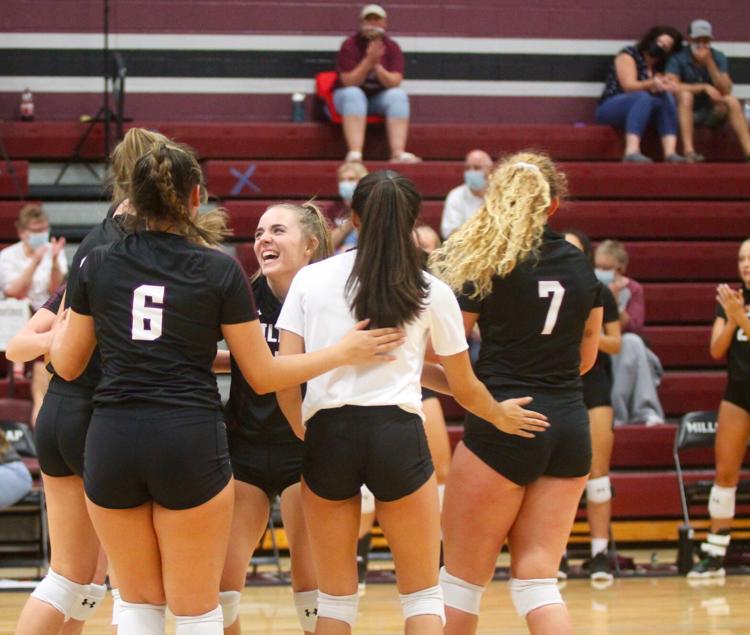 Van Dyke has remained among the team leaders all season, and she is a freshman. That means three more years of exciting play from this kid.
"Thankfully, we'll have her around for a while," said Kylie Serrato, Millsap's head coach. "She's an extremely consistent and very dependable player."
Serrato attributed the rash of aces from her team to focusing on spot serving as a team in practice, "rather than us just serving to get the ball over the net like we have in the past," Serrato said. "The girls are becoming more and more confident with their serving, so that has helped, too."
Millsap (10-8) plays at noon Saturday at home against Bangs (4-7).
Aledo cages Cougars
The Ladycats won in straight sets against the Cooper Cougars on Tuesday. Aledo is ranked 32nd in the state currently and is led by Lilly Taylor, Audrey Pearce, Mattie "Worker" Gantt and Abby Thompson.
Another Cooper awaits, as the Ladycats (7-1) hit the road to battle the Cooper Pirates (2-3) at 12:30 p.m. Saturday in Lubbock in a dual meet.
The Ladycats take on Coronado (4-2) at 2 p.m.
Strawn stumbles in Hawley
The Lady Greyhounds didn't play for a week and returned somewhat stiff on Tuesday night, losing in straight sets to Hawley. The loss leaves Strawn with a 6-3 district record as they head into the last month of the season.
Strawn (9-3) plays at 10 a.m. Saturday at Rising Star (0-3) at home.