Weatherford begins season with a W
The Lady Roos refused to lose. The team fought hard for four sets during its season opener to topple Frisco Liberty in front of a noisy, supportive crowd that had gathered for senior night.
Weatherford lost the first set before coming on strong: 19-25, 25-23, 25-22 and 25-17.
Since it was Senior Night, Roos head coach Nicholas Gay started and ended the game with all six of his team's seniors on the court: Abbie Lane, Lynsey Lee, Logan Loran, Caiti Sanchez, Ashley Trammell and Kayleigh Bateman.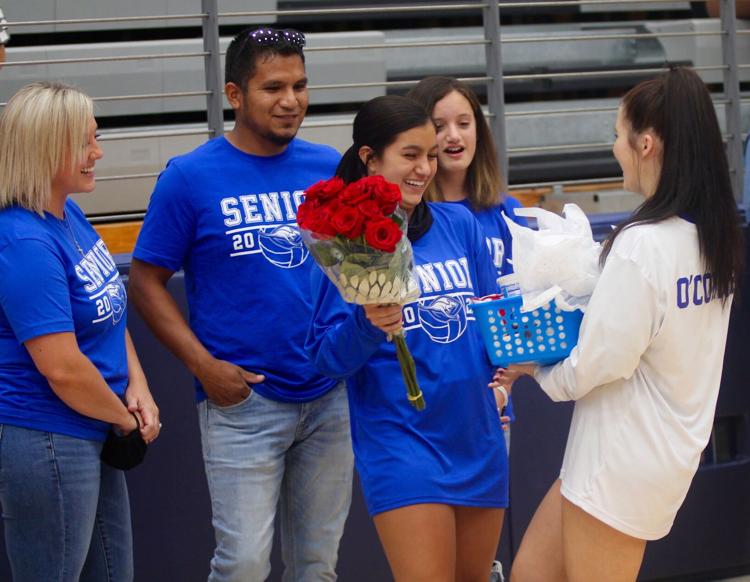 Lane led the team in kills and blocks and added 10 digs, while Loran tallied 29 assists. Keegan O'Connor, a junior, scooped 30 digs. The Roos received help from a couple of sophomores as well — Riess Griffith served four aces, and Kate Hansen added four blocks.
Weatherford (1-0) plays two games at home on Friday — at 4 p.m. against Amarillo (0-0) and at 7 p.m. against Granbury (1-1) at the Ninth Grade Center on Main Street.
Aledo wallops Centennial in season opener
The Lady Cats clawed to an easy win against Centennial in a road game on Tuesday, taking straight sets in convincing fashion: 25-17, 25-20 and 25-16.
Senior Lilly Taylor led Aledo in kills with 11 and added 11 digs and a couple of blocks. Mattie Gantt, a junior, nailed six aces and 12 digs and led the team in assists with a whopping 28. Senior Abby Thompson led in digs with 14. 
Aledo (1-0) travels to play at 5 p.m. Friday at Guyer (2-0) in Denton before returning home to play at noon Saturday against Wylie (0-0).
Brock 'n' roll
The Eagles swept Early in straight sets on Tuesday night: 25-20, 25-16 and 25-14. That's two sweeps in a row for the Eagles, who trounced Dublin the week before. Consider Brock's tough-as-nails team fully redeemed after being swept by Peaster last week. Against Early, Brock's Ava Tanner led in kills and digs and added a couple of blocks. Kylie Hoster and Marlee Garcia, both juniors, combined for 25 assists, and Hoster led the team in aces with three.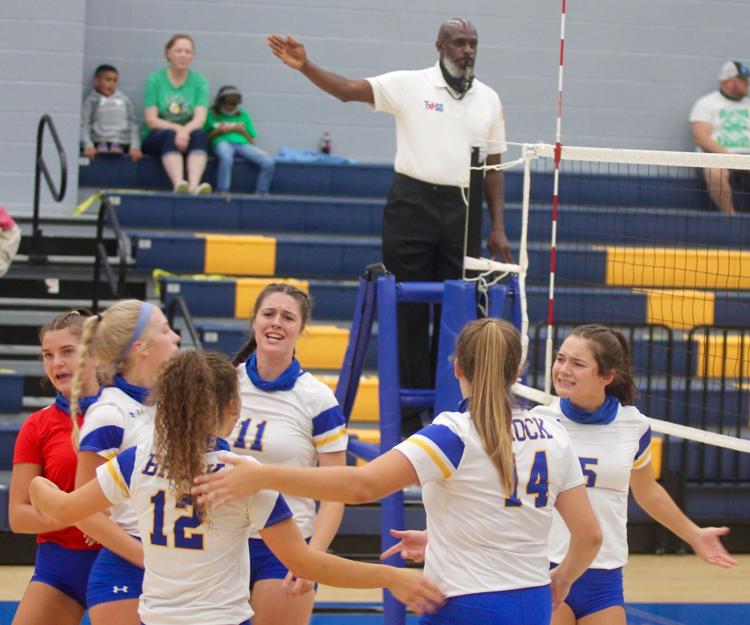 Next up, the Eagles (6-9) play an away game at noon Saturday at Eastland (1-3).
Poolville keeps sparkling
The mighty Monarchs keep floating like butterflies and stinging like bees, notching yet another sweep in straight sets on Tuesday: 25-8, 25-10 and 25-6. This time, the Perrin-Whitt Pirates were on the receiving end of the Monarchs' reign of terror.
Monarch senior Bentley Bryan logged 12 kills and also led in blocks. Senior Alyssa Bonaventure led in digs, while senior Payton Jennings led in assists and service points.
The Monarchs (12-3) play next at 4:30 p.m. Friday at Saint Jo (2-3).
Perrin-Whitt (2-7) plays at 10 a.m. Saturday at Graford (7-5).
Peaster sweeps Millsap
The Greyhounds outraced the Bulldogs in straight sets on Tuesday: 25-18, 25-3 and 25-10. Peaster appears to be back on track after their strong start to the season was disrupted by a two close losses a couple of weeks ago. Since then, they've been sweeping folks like a team of custodians after a coffee break.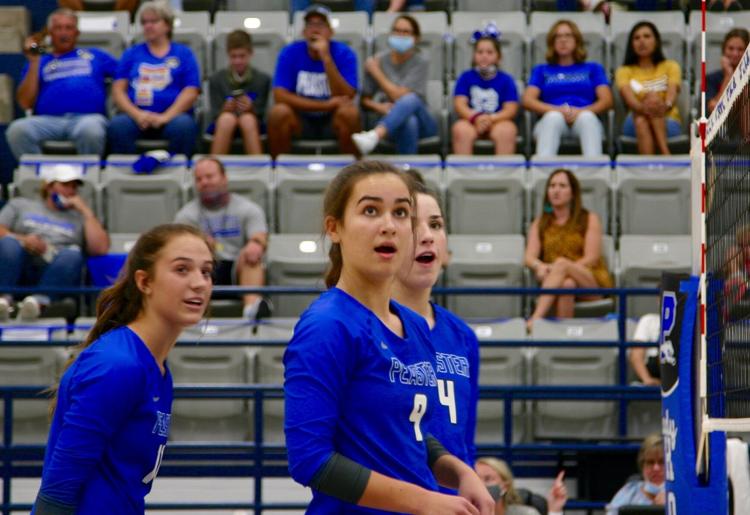 Millsap saw its four-game win streak — four consecutive sweeps, no less — come to an inglorious end but hope to find their way back to the W column this weekend when they square off against a winless team.
Peaster (10-3) takes on Early (2-5) at 5 p.m. Saturday at home.
Millsap (7-7) plays at home against Comanche (0-4) at noon Saturday.
Mineral Wells distills Brewer
The Rams overcame a third-set hiccup to defeat the Brewer Bears in four sets on Tuesday: 25-13, 25-11, 11-25 and 26-24. It was the Bears' first game of the year -- perhaps they should have remained in hibernation another day or two.
The Rams have been up and down but are winning more than losing as the season wears on and showing plenty of spunk under Erin Rincon in her first year as head coach. Rincon liked what she saw in her team against the Bears and believes it bodes well as the team heads into district play next week.
"I saw pieces of our defense start to click,which helped us pull out the win," she said. "Winning last night was what we needed to prepare us for our first district game against Vernon on Tuesday."
Emily Myrick led the Rams with 20 digs. Brooklyn Ellis notched nine kills, and Kenzie Lawhon slammed eight aces.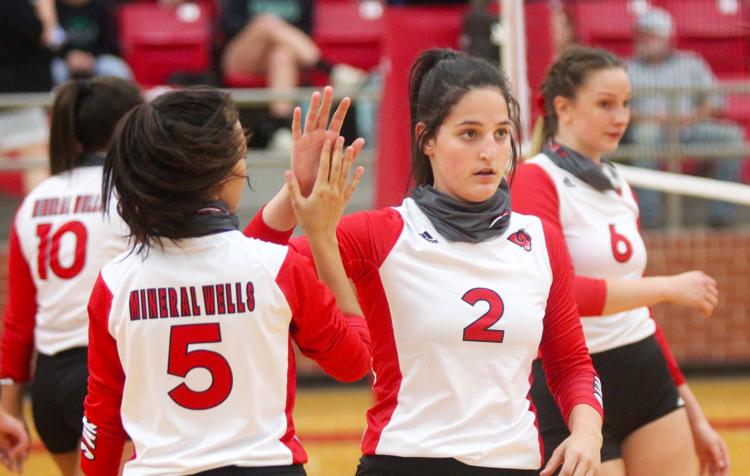 Mineral Wells (6-6) will enjoy a bye on Friday and play next at 5 p.m. Tuesday, Sept. 22, against a struggling Vernon (1-5) at home.
Springtown's clash of the titans
The Porcupines are rested — they haven't played since Sept. 8 — and ready to see how they stack up against another powerful team. The Porcupines hope to hand Decatur its first loss of the season. Springtown has benefitted from strong play by junior Railey Druxman and senior Rayleigh "Miss Assist" Farris, with plenty of help from teammates, including juniors Skylar Holland and Emma Martinez, sophomore Brinklee Dauenhauer and freshman Stolie Cox.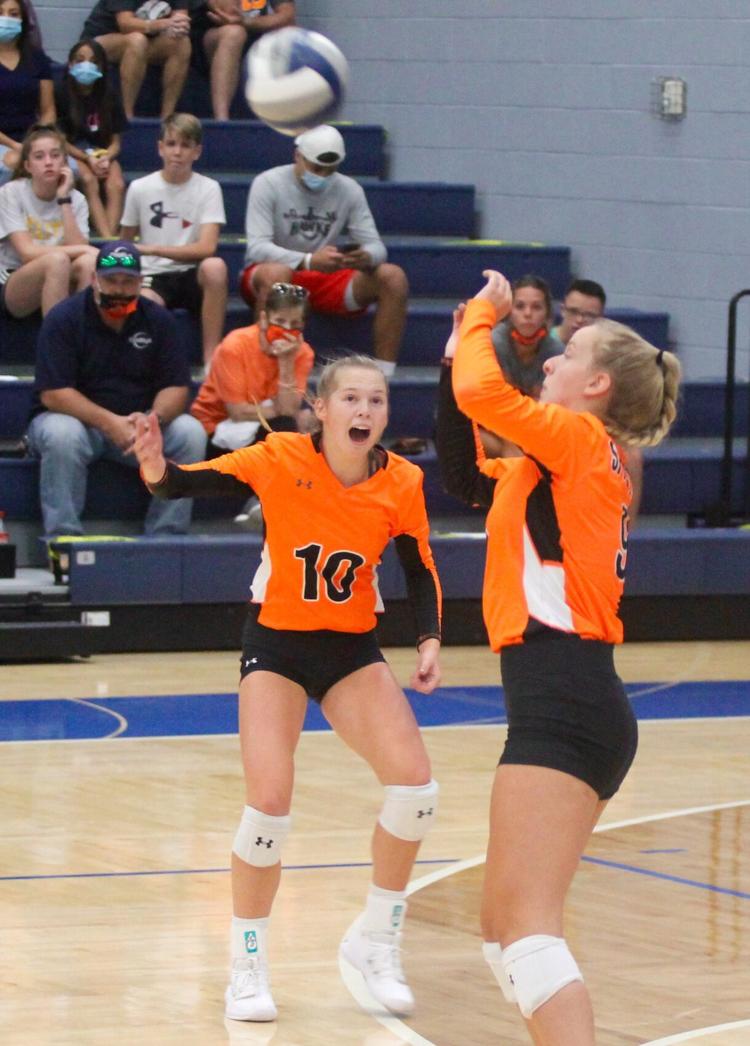 The Lady Pines (9-1) travel to Decatur to challenge the Eagles (14-0) at 10 p.m. Friday.