Weatherford 24, L.D. Bell 0
The Kangaroos capitalized on a struggling opponent on Friday, shutting them down and out. With the score still 6-0, the Blue Raiders were threatening to score but facing third and 14 when Weatherford's defensive line made a crucial sack that killed Bell's momentum. The defense came through with another sack on a third down later in the game, and the Roos offense put the game out of reach.
Mineral Wells 14, Vernon 38
Vernon, a team that had been winless until Friday, scored 38 unanswered points before the Rams defense clamped down and its offense opened up. By then, it was too late. Mineral Wells' cursed season, fraught with COVID-19 shutdowns, game cancellations, schedule re-jiggering and injuries, continues to create obstacles for the Rams.
Springtown 41, Hirschi 22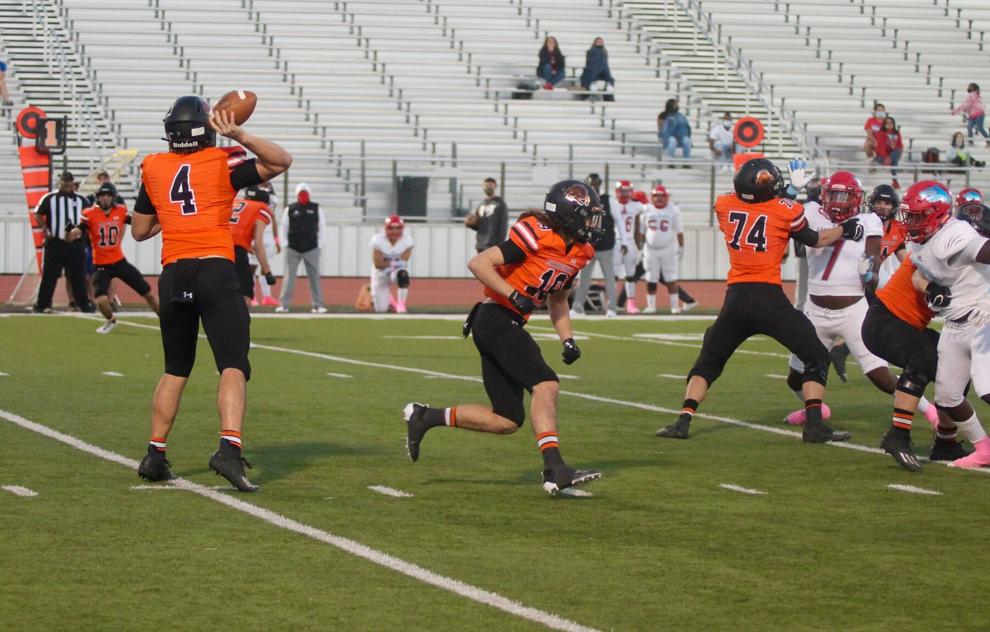 After the national anthem finished playing, the Porcupines began clapping and yelling on the sideline, and a Springtown coach hollered, "You got to bring the energy! Let's go!"
And, with that, the game began.
Springtown received the opening kickoff and might have brought too much energy. On first and 10 from the 25, quarterback Camden Chesney threw a long pass to Cooper Croft that was called back for penalty. It would be an omen for things to come, as the Porcupines would quill themselves early and often with penalties.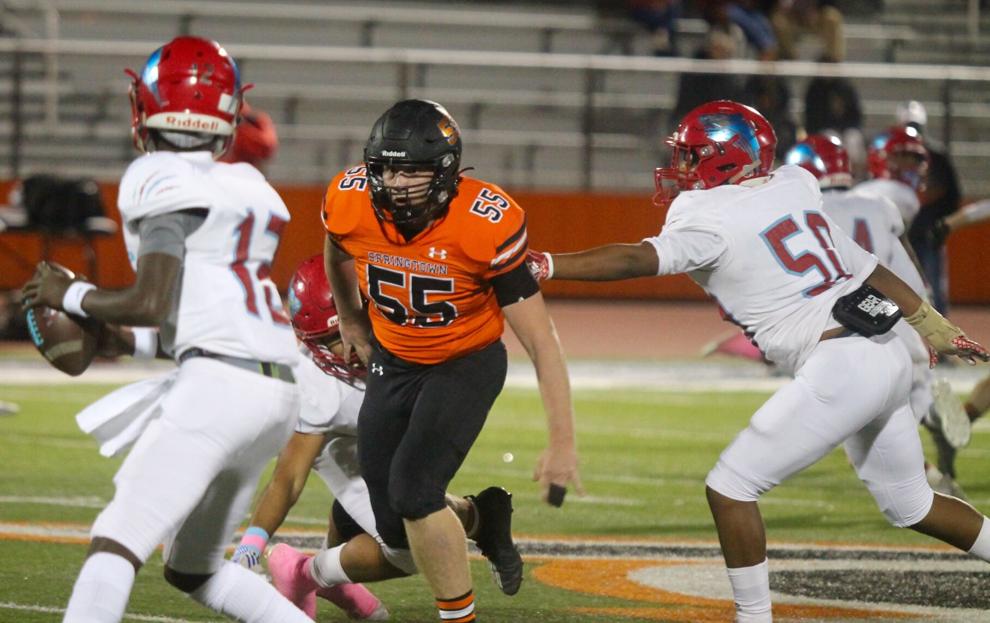 A holding flag on third and nine near the goal line meant Springtown had to settle for a field goal rather than a touchdown on its first possession. Brendan Hall, a 6-foot 7-inch senior kicker, booted a 32-yard field goal to put the Pines on the scoreboard first. Hall has the leg of a mule, and all of his kickoffs against Hirschi went for touchbacks or sailed out of the end zone.
With his team up 3-0, defensive back Kolton Gist intercepted a pass with 2:40 in the first quarter, killing a Hirschi drive. The Springtown offensive took over at their own 43 yard line and drove half the field for a TD pass from Chesney to Andy Behle to go up 11-0 after the two-point conversion.
A defensive lapse in the second quarter allowed a long pass that set up Hirschi for a touchdown and two-point conversion to reduce Springtown's lead to 11-8.
Chesney responded immediately with a pass to Matthew Lockard down the left sidelines, and the wideout juked a guy, glimpsed a swath of daylight and took off on a bee-line to the end zone to give the Pines a 10-point lead.
Hirschi rebounded with a field goal, and then leaped on a Dylan Davis fumble at the Hirschi 35 with 7:04 remaining in the second quarter. Three plays later, Hirschi found the end zone and took a 18-22 lead that held until the first half ended.
During the halftime, former Porcupines standout Dillon Springfield was inducted into the school's Wall of Honor. Names of inductees are emblazoned on the outside wall of the field house at Porcupine Stadium.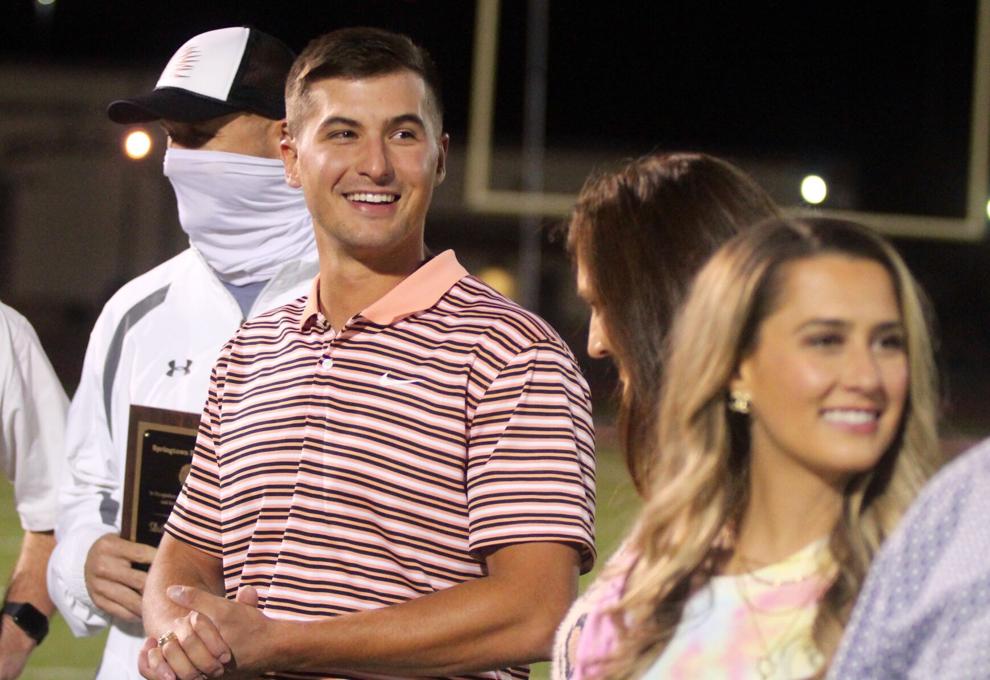 Springfield graduated in 2015 and led his team to the playoffs that year as a quarterback and wideout while winning Offensive MVP for the district.
"I wish I could be out there," he said after walking off the field to a strong ovation from Pines fans who remember seeing him play not long ago. "I miss it. I definitely miss it."
Springfield likes the idea of having his name on his alma mater's sacred wall.
"It's a great honor," he said. "It's awesome."
He recalled his first day of track practice in his senior year, speaking to a coach, who looked at the Wall of Honor and said, "Do you think your name will be up their some day?"
"I said, 'Let's find out,' " Springfield said. "Here we are, five years later."
Springfield was accompanied by his mom, Gina, dad, Keith, and sister, Alyssa.
The second half began with Springtown kicking off and recovering a Hirschi fumble at their own 28. Chesney punched it into the paint to grab the lead again, 25-22.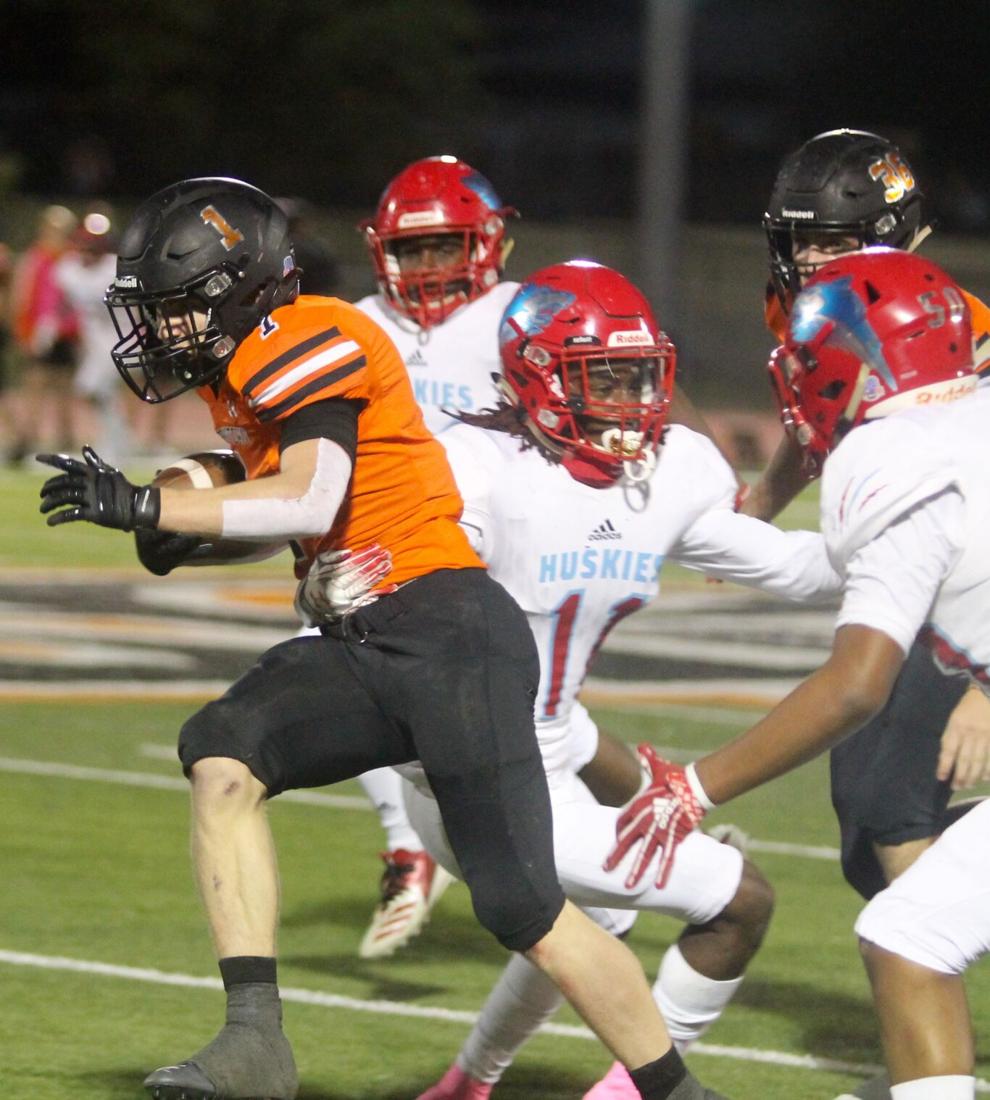 Another huge kickoff from Hall gave Hirschi the ball at its 25, and they found themselves in punting position quickly. A shanked punt of five yards set up the Pines with great field position at their own 28. On fourth and eight, Springtown's offense stayed on the field, and Chesney threw a pass that was deflected by a Hirschi defender but caught by Lockard for a first and goal from the 10. Chesney ran in the ball three plays later, and the Pines went up 31-22 after a fake play on the extra point failed.
At the beginning of the fourth quarter, Hall kicked a field goal to increase the Pines lead to 34-22, and Hirschi never recovered.
Chesney hit Lockard for a long TD pass to pad the score to 41-22.
After the game, Springtown Head Coach Brian Hulett said his team showed grit despite shooting itself in the foot more than once.
""We played hard, we didn't just stay on it the whole time," he said.
"We had too many mistakes and lapses in focus. We played up and down too much. I don't like that, but we got the win. Hirschi is a quality football team, so I'll take it."
His team can expect some instruction in the coming week on discipline and focus.
"Every time we got a big play, there was a flag on the play," he said. "We had three 30 or 40 yarders in the first half called back for something. We couldn't keep rhythm."
Brock 56, Ponder 19
After a string of slow starts, Brock's offense started strong for a change and put up 14 points in the first quarter and 34 in the first half. Ponder, unlike many teams this year, managed to score points in the first three quarters against Brock's stingy defense, but not enough to make a difference.
"We played with great effort," said Brock Head Coach Chad Worrell after the game. "Defensively, we had a few break downs , and they were able to capitalize on them. Offense continued to roll, and we had some kids step up in place of some injured players and really played well. Overall, a great team effort."
Brock's offense racked up 499 yards of offense on 42 plays — an almost 12-yard average. Cash Jones ran for 176 yards and three touchdowns. Quarterback Jaxon Gleaton was seven of eight in passing for 89 yards and a TD to tight end Nathan Jones. Chris Palfreeman, Myles Semas and Kutter Wilson scored TDs of their own. 
Aledo 17 , Cedar Hill 27
Aledo was down 3-7 in the second quarter when Cedar Hill scored on a fluke play. A tipped pass landed in the hands of mammoth 290-pound offensive lineman Miguel MasseyJr. of the Longhorns, who carried the ball into the end zone to increase the visitor's lead to 3-13. Aledo responded on their possession, with running back Demarco Roberts scoring from four yards out to cut into the Longhorns lead, but it wouldn't be enough.
Strawn 52, Three Way 0
Strawn improved its district record to 2-0 after beating Three Way and sits alone in first place in its conference.
Gordon 79, Bluff Dale 34
Gordon lit up the scoreboard in a romp against a conference rival, making the Longhorns 5-2 for the season, 1-0 in district play and in second place behind Strawn.
Millsap 45, Merkel 27
Millsap found the end zone regularly against Merkel, with quarterback Lawson Nairn completing 14 of 23 passes for 230 yards and three touchdowns. Basey Mitchell churned out 100 yards, while Waylon Dunn and Wesley Rogers added 65 and 60 yards on the ground, and both found the end zone. Nathan Sykes caught two TD passes, and Austin McBroom caught . one Garyn Roe had a scoop and score on defense, and Wyatt Birdwell kicked a 31-yard field goal.
Peaster 6, Boyd 46
Peaster managed one touchdown pass and little else against an undefeated and powerful team. The Greyhounds earned 183 yards on offense but had trouble finding the end zone, while its defense struggled to contain Boyd's high-flying offense.
Peaster's quarterback Gunner McElroy was 13 of 22 for 130 yards with a TD pass to Caden Duer.
Perrin-Whitt 49, Bryson 58
Trinity Christian 16, Trinity Christian Lubbock 21
The Eagles' two-game win streak came to an end in a nail-biter against TC Lubbock. Eagles Head Coach Joe Hamstra liked the effort he saw in his team but lamented "too many mental breakdowns in all areas of the game."
He and his coaches will do a better job of having their kids ready to play, he said.
"We cut the lead to one score, and they return the kickoff for TD," he said. "Put us down by two scores again before half. Second half, we get in red zone and can't score. They go on a 98-yard drive and eat over nine minutes of the clock."
Eagles quarterback Ryan Hollingsworth rushed for 75 yards and two TDs. Linebacker Jake Poverty led the team with 14 tackles.
Community Christian 18, Methodist Children's Home 64
The Warriors kept the game close in the first half but relinquished 34 points in the third quarter and couldn't recover with an inexperienced quarterback. Freshman Jessie Rodriguez threw for 196 yards and and a touchdown but also added three interceptions. Rodriquez was also his team's leading rusher with 39 yards on 12 carries. Wideout Donovan Diviney caught three passes for 78 yards, and Bryce Haralson added 69 yards in eight receptions.
Weatherford Christian 0, Lake Country Christian 42