Strawn 45, Gorman 0
A trip to Palo Pinto County to watch a couple of 1A six-man football games turned into a battle for survival. The mosquitos in Strawn were thick. Millions of the tiny buzzing vampires swarmed into Greyhound Stadium and sank their needle noses into a loyal hometown crowd that had come to watch their team take on Bishop Gorman.
I stopped at a convenience store near the stadium to buy a drink after I left the game, nearly anemic from all the blood loss. The customer in front of me placed a canister of mosquito repellant on the counter.
"This is the fourth one I've sold," the woman behind the counter said.
I passed on the somewhat overpriced bug spray, a decision I would soon regret.
While the winged Bela Lugosis snacked on fans in the stands and sportswriters on the sidelines, the Greyhounds sucked the life out of Gorman on the home field turf. Strawn opened the game with an onside kick, which they recovered, and the Hounds pretty much owned the evening from that point forward. Strawn, already ranked an impressive 19th in the state, might see that number climb after Friday night's dominant performance. And to think they win all those games while being nibbled on by vociferous bloodsuckers. Impressive!
Gordon 64, Sidney 40
About 10 miles down the road from Strawn, Gordon was hosting Sidney at Longhorn Stadium. The mosquitos were buzzing around there, too, but not nearly as thick as in Strawn. Perhaps the folks in Strawn eat more blueberries, and their blood is sweeter. Just a theory.
Gordon was on a two-game win streak and facing a strong Sidney team on Friday. The Longhorns, however, were pumped. It was homecoming, and the four candidates for king were all Longhorns players. The boys built a big lead by halftime, removed their helmets and, with sweaty heads and dirty uniforms, locked arms with their potential queens and stood at midfield facing the stands and waiting for the winners to be announced.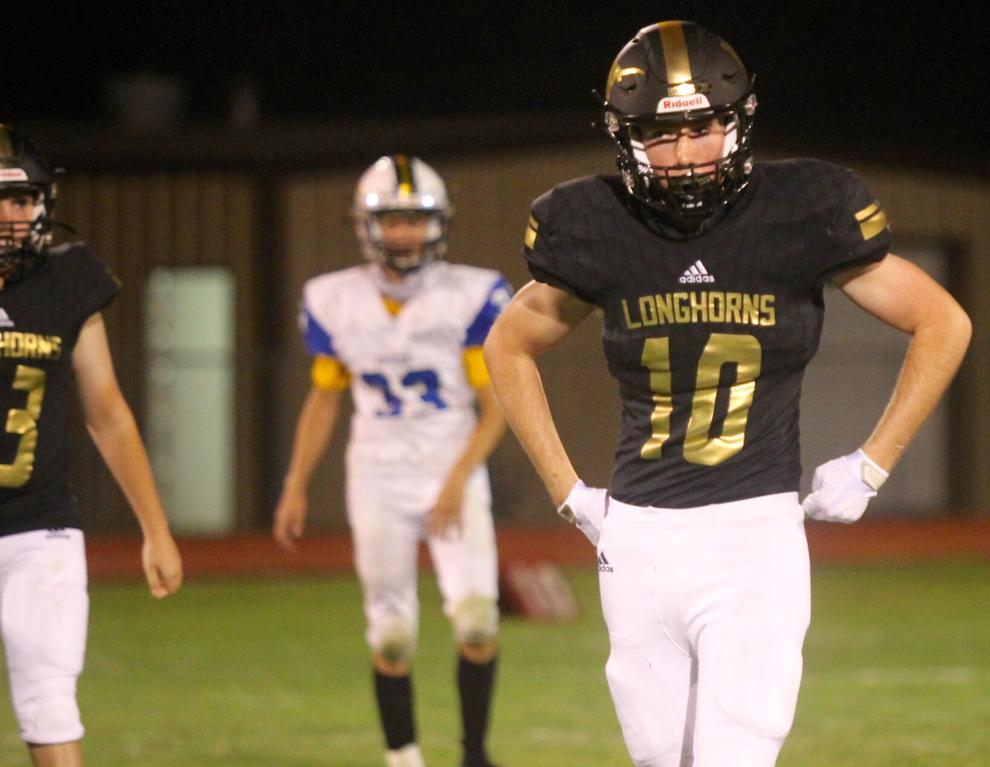 The queen's crown was bestowed upon Jamey Curry, while the king turned out to be Ross Trigg, a 6-foot 4-inch receiver who'd already enjoyed a big first half on the field and was now scoring big on the social scene.
"You're the new king," I said to Trigg as he walked off the field.
"Yes, sir," he said.
"Heavy is the head that wears the crown," I said.
"Yes, sir," he said.
Trigg is not what you'd call talkative. More like the strong silent type. And it was back to business when the second half started.
Longhorns coach Mike Reed began using bench players midway in the third quarter, allowing the Eagles to score points and make the game appear closer than it was.
Afterward, Reed was pleased.
"This is the first time I felt like we came out early and flexed our muscles and showed the type of talent and team we're going to have," he said. "We were explosive early and got after it."
The Longhorns are a young team with only three seniors. The school doesn't have a junior varsity team this year because the number of players is too low. Playing underclassmen as much as possible during varsity games helps build their experience and strengthens the team for the future, Reed said.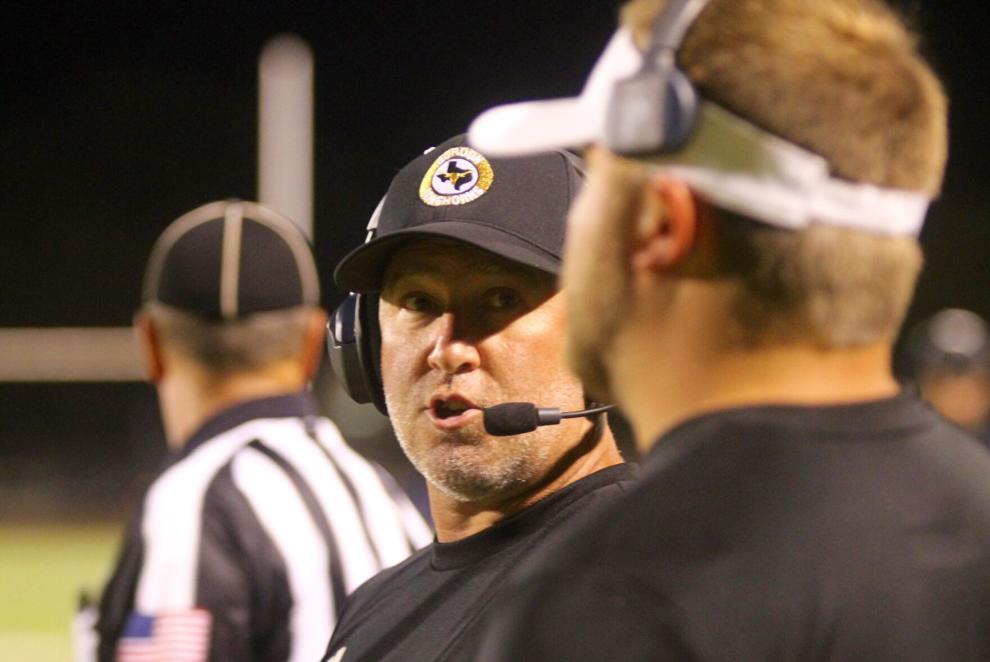 "It threw our sync out a little but, but that's good because we're able to put that on film," he said.
The hometown fans left happy, and that made Reed happy.
"The last couple of homecomings we've had here, it's been some good games, four quarters of football and giving the crowd something they want to come for," he said.
Most people stayed to the very end — despite those pesky mosquitoes.
Brock 42, Iowa Park 35
The score was closer than most games in which Brock participates, but the Eagles came out on top as usual, defeating a powerful Iowa Park on Friday night. Brock's offense started the night on fire, scoring three touchdowns in the first quarter.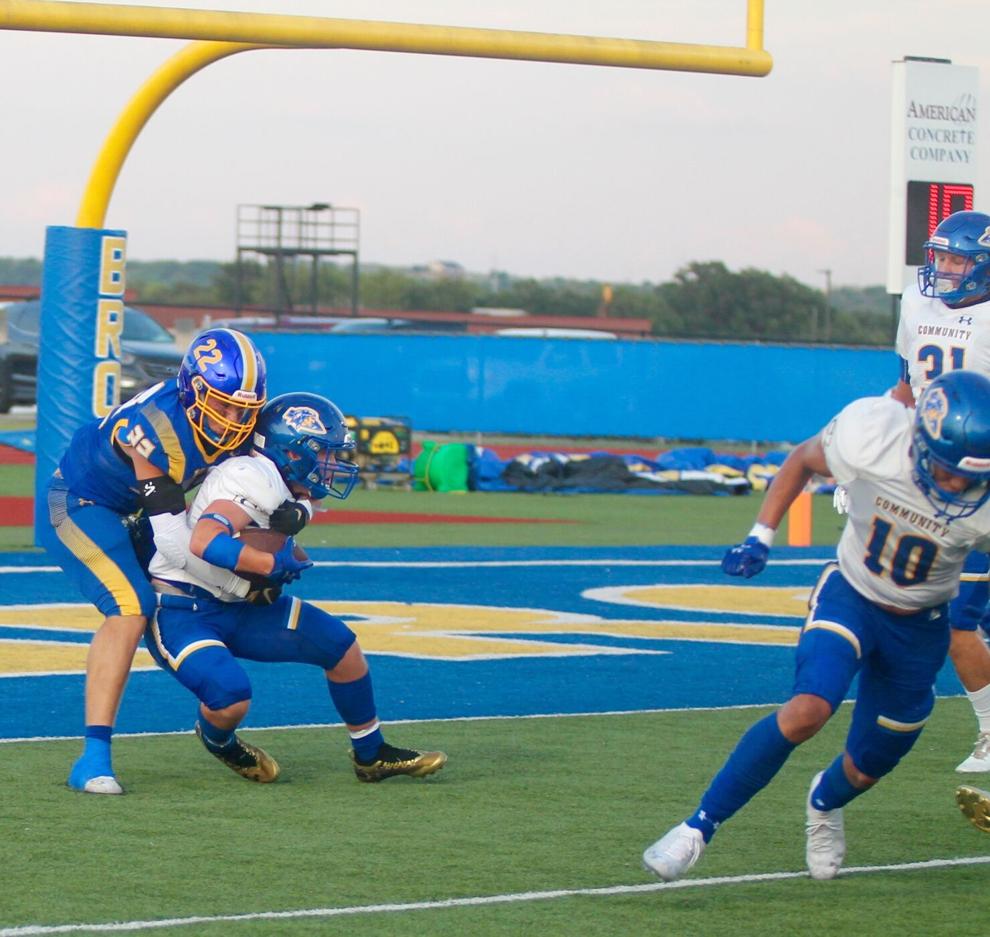 Brock's defense, however, wasn't as dominant as usual, allowing the Hawks to score 14 points in the first quarter and a touchdown in each successive quarter.
Eagles running back Cash Jones ran for 247 yards and three touchdowns, and running back Myles Semas added two touchdowns of his own. Tyler Riddle caught a 60-yard touchdown pass.
Springtown 52, Godley 20
The Porcupines improved their record to 3-1 after beating Godley with little trouble. Godley was no pushover — they had beaten Life Waxahachie 50-27 in Week One and thrashed Mineral Wells 61-20 in Week Two. The Porcupines have officially forgotten their loss in Week One and are enjoying a three-game win streak.
Millsap 21, Paradise 22
Both teams were undefeated heading into this game, and the outcome couldn't have been any closer. The Bulldogs, though, fell to the Panthers in a genuine nail-biter.
Perrin-Whitt 53, Covington 50
The Perrin-Whitt Pirates couldn't overcome a slow start but surely tried. The Pirates went into halftime down 12-0 but came out running and gunning in the third quarter, scoring 26 points. The defense, however, gave up 22 points. The Pirates scored another 12 points in the fourth but fell short on a comeback. 
Community Christian 36, Heritage Christian Academy 50
Warriors quarterback Jackson Horton had another huge game, but his team fell short yet again, leaving Community Christian winless after four games. Horton, a junior, threw for 185 yards and four touchdowns and ran for 134 yards and a touchdown. Senior receiver Joshua Guzman caught two passes for 72 yards and ran the ball once for 15 yards.
Mineral Wells at Sanger (Cancelled)
The game was called off after several Rams players tested positive for COVID-19.